Weekly view
Weekly Bubbles View
Using bubbles to organize, prioritize, and plan your work may seem an odd methodology, but it is an extremely powerful and efficient task management technique. And, who doesn't like bubbles? Project and Task management is dry and tedious enough. You can lighten up your workflow while increasing visibility to your most important task and become more agile in task prioritization. 
Weekly planner view – is a core of the workflow management functionality in BubblesPlanner.
Tasks represented in bubbles view have three distinct features:
Each task bubble has its own coordinates. By visualizing tasks as bubbles in two-dimensional space provide a greater comprehension of the complete workflow.
BubblesPlanner view has a variety of navigational elements. They are:
Click on one of the buckets to see the tasks for that time period in a list format.

Clicking on a task in the list – the corresponding Bubbles for the tasks is highlighted.

Use a variety of different planning methods. Choose what fits you best.

Use this icon to expand and contract full Bubbles view mode for that week.

Use filter
Refresh bubbles view if required

Advance forward and backward through the weekly buckets.

Switch between the Weekly, Daily, and Calendar Planner views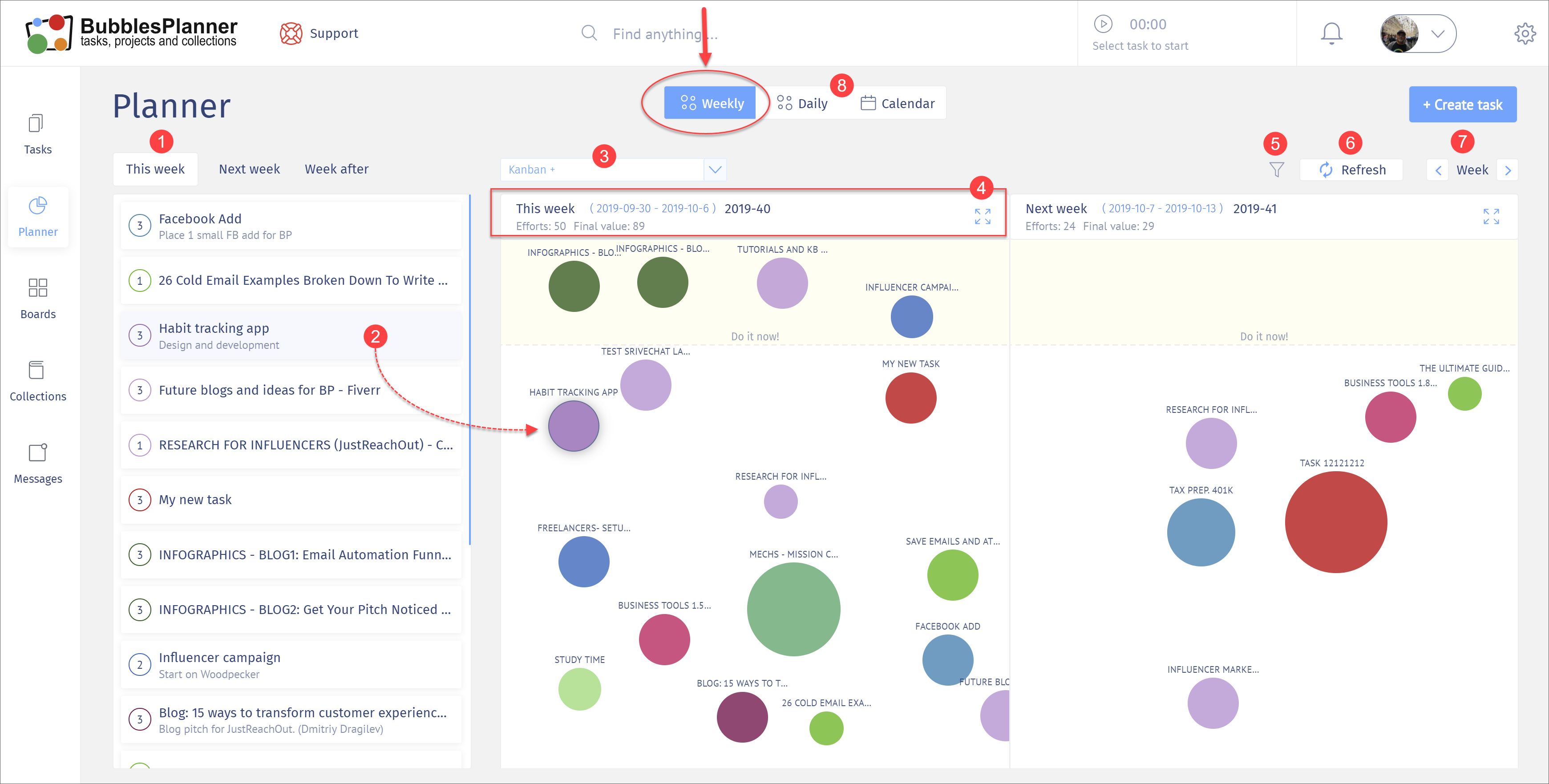 To select a Task, click on it in the list view to the left or on its Bubble to the right. To aid in visualizing which Task is currently active, BubblesPlanner will shade the text area and outline the Bubble with a thin black circle and shadow. See the graphic below for an example.
Note: Right clicking on a bubble in the Week view opens the same pop up described in the Daily View section that allows you to enter a Quick Note, change the Progress slider, and open the full Task.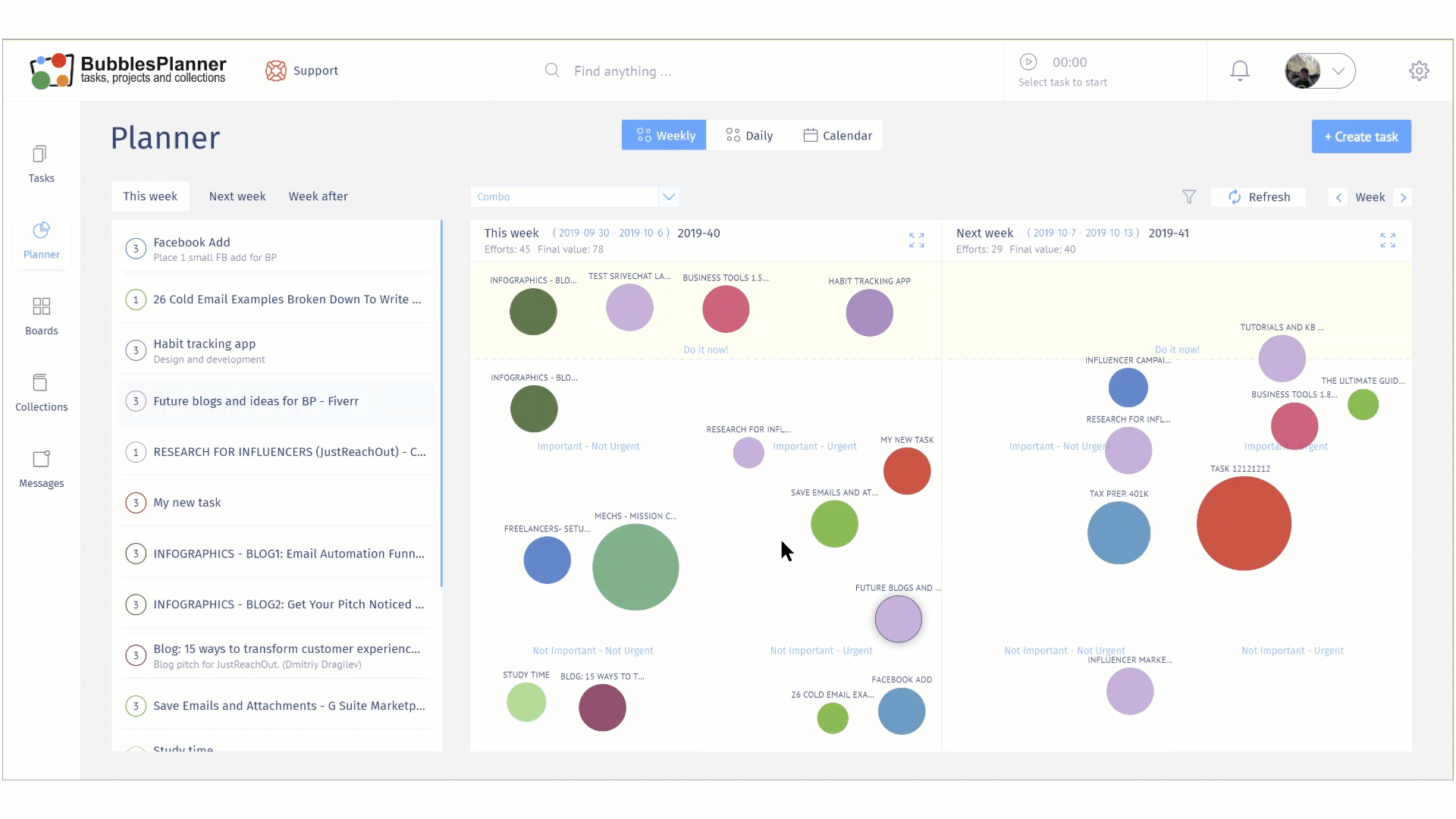 Note: When the tasks' Bubbles are first presented, they are positioned with no particular methodology in mind. The next section covers how to organize the Bubbles to aid your planning and management using one of the included methodologies. 
Planning with Bubbles
Color, size, name, and contextual/final value all combined provide each task bubble a series of characteristics (or clues) essential for planning the workload:
Level of Effort (size)

Category (color)
Position and layout (pattern) in the bubble view window.

Value to a supported goal (Contextual value)

Final value 
Bubbles can be arranged in specific patterns that are very useful in helping to gain visibility, allow instant management of priorities resulting in planning efficiency. That is where the visual organizational arrangement built-in into BubblesPlanner really shines. These are our own proprietary adaptation of popular project management methodologies.
You can select the backdrop you prefer, and the system overlays organization grids that provide areas for you to place your Bubbles. 
Freestyle (default)

Kanban boards

Kanban + 

Matrix system

Combo (Kanban + and Matrix)

GTD (Get it Done)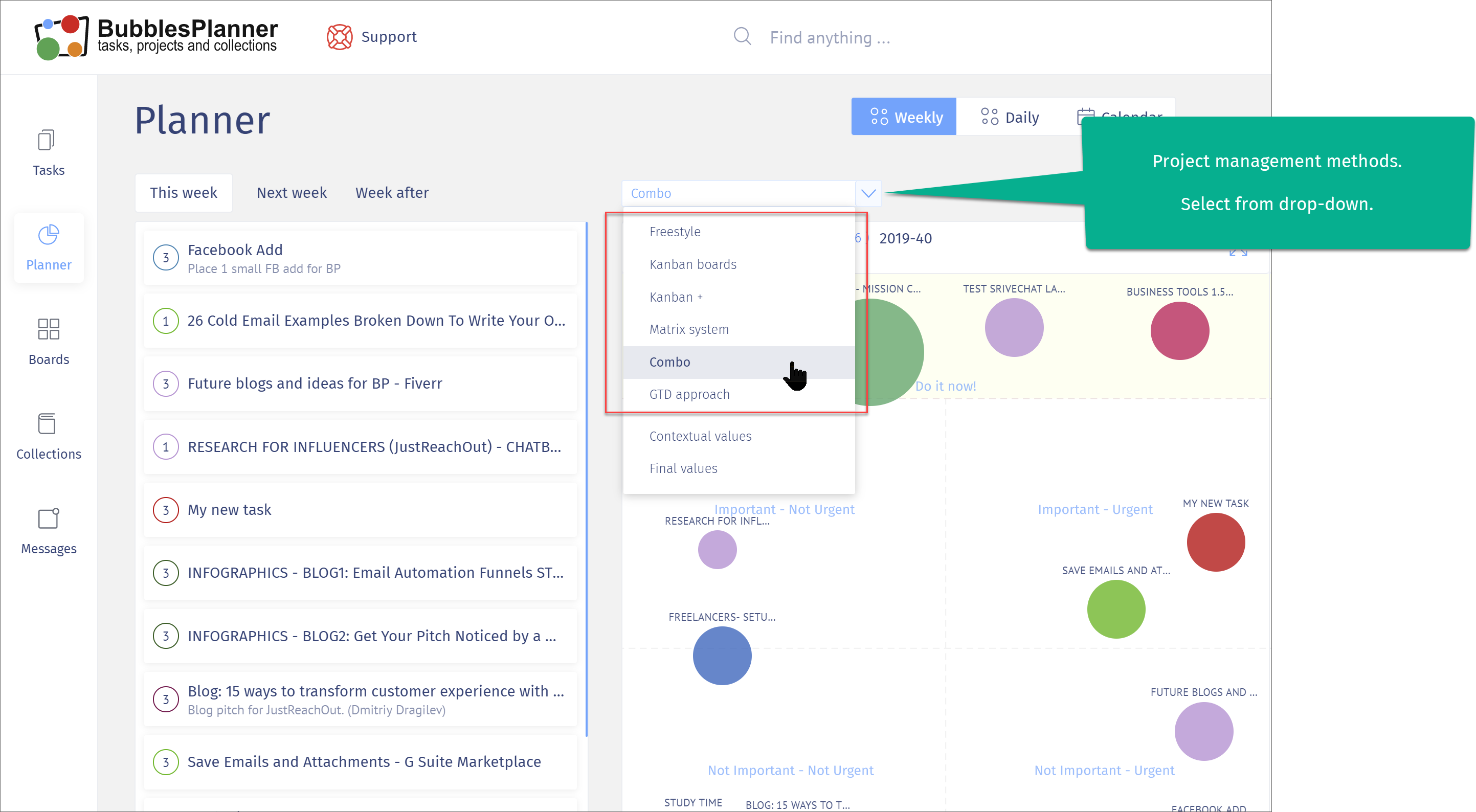 Note: You can specify your default template in Settings/General Settings/Default planning method
Note: To create more space to work in, click on the expansion icon in the upper right corner of the "This week" or "Next week" pane.
Freestyle
It is the clear and simple backdrop used in bubbles' view. To use the Freestyle underlying method, click the drop-down arrow above the Bubbles display and select it.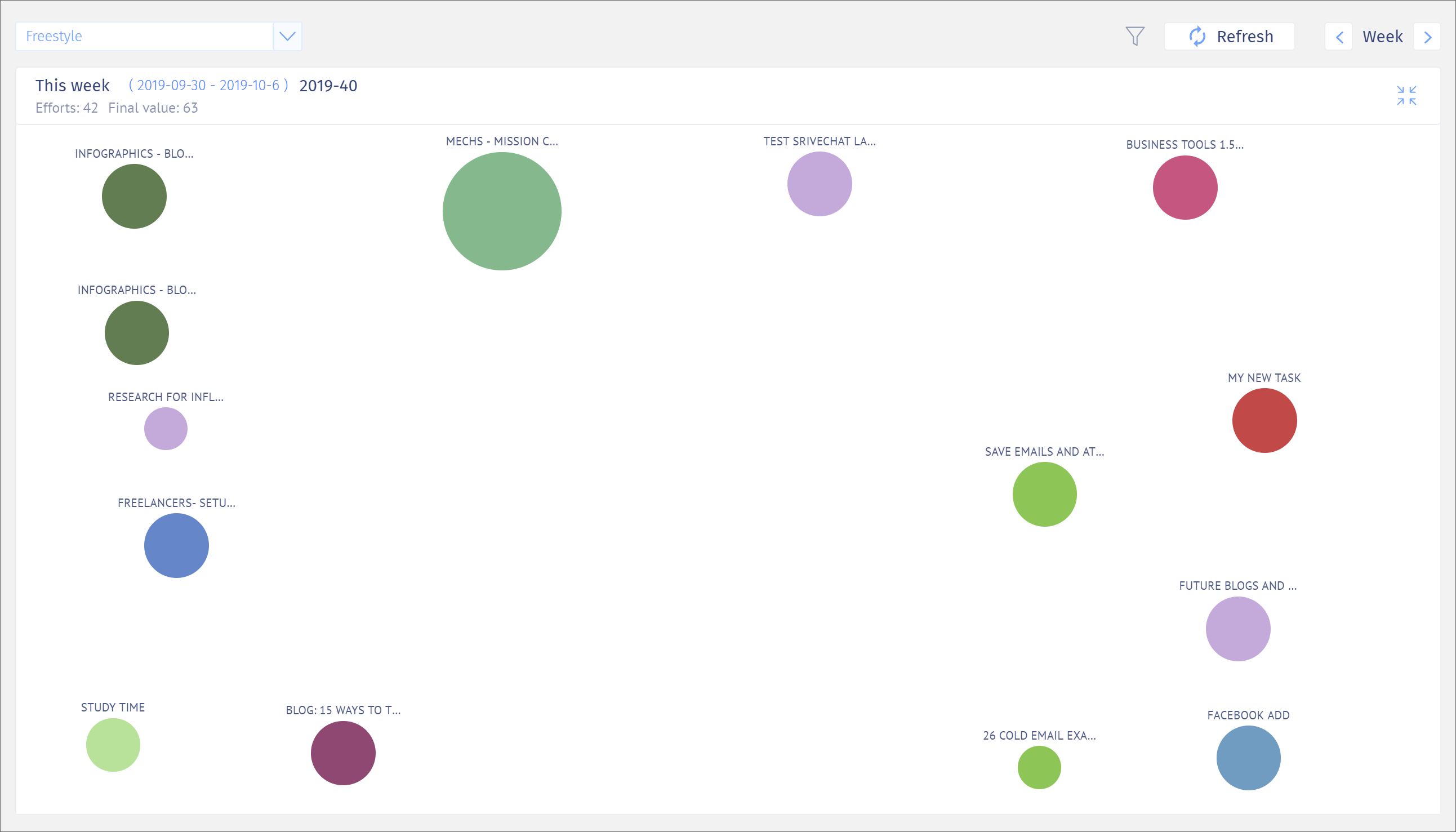 With this method, you are free to use any layout of tasks and only imagination is the limit. You can group them, align in rows or columns, line-up in sequence … and a lot more.
Kanban boards
The term Kanban originates from Toyota's "just-in-time" production system, which means doing "only what is needed, when it is needed, and in the amount needed." It's a great to-do list strategy if you enjoy seeing your projects and tasks in various stages of completion.
Stripped down to its bare elements, it's a to-do list that contains three sections:
By separating work into these three sections, teams can coordinate their projects and monitor their progress.
Kanban backdrop used in BubblesPlanner view is resembling Kanban board structure.  Bubbles view is split up into 5 areas:
"Waiting for actions"

"To-do"
"In-progress"
"Waiting for"
"Test"
To use the Kanban backdrop, click the drop-down arrow above the Bubbles display and select it.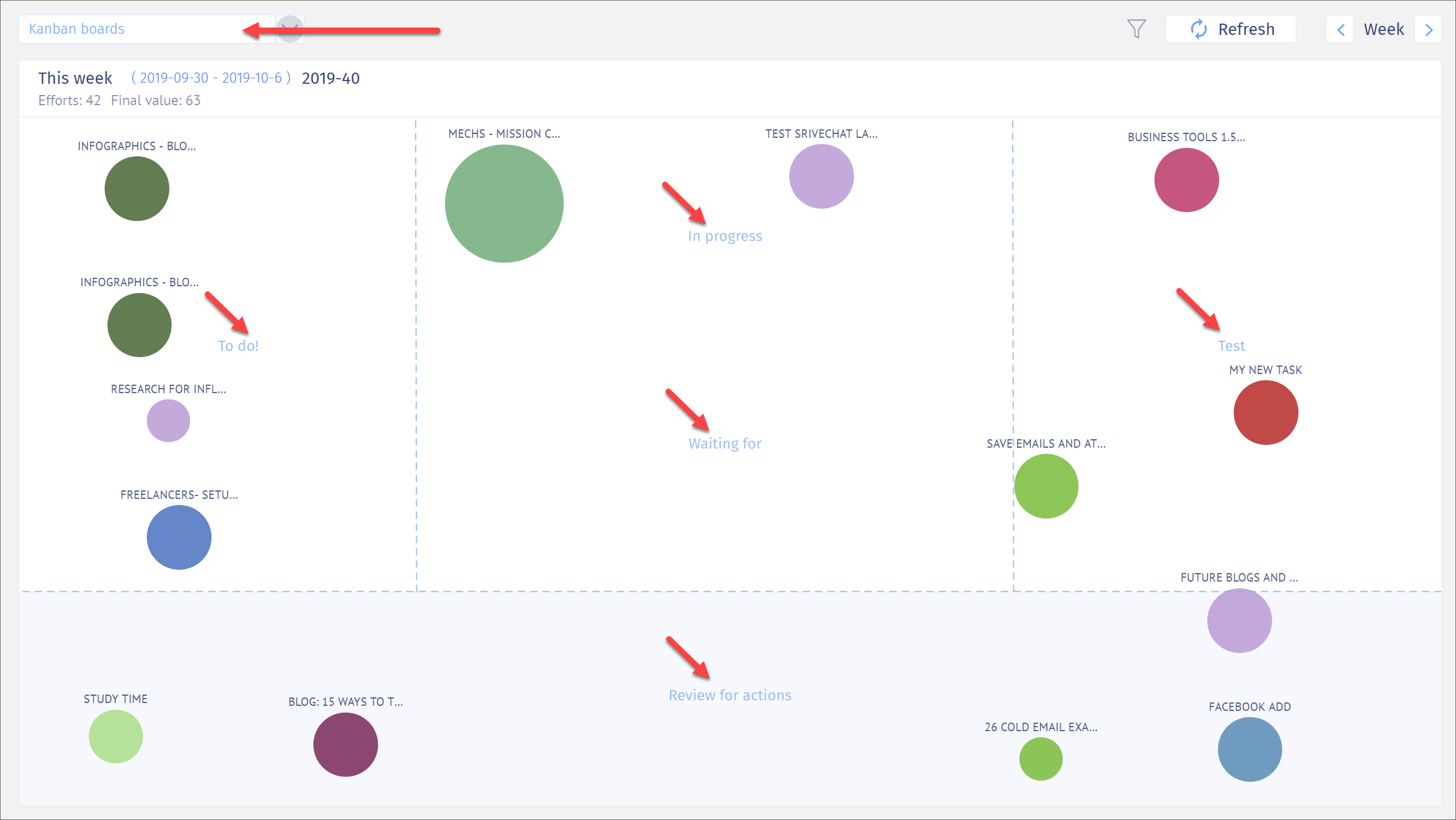 Kanban + (MIT)
Kanban +  backdrop is being used in bubbles' view to follow "Most Important Tasks" (MIT) strategy.
This strategy was popularized by Leo Babauta of Zenhabits.net. When you review your focus tasks daily using bubbles view – you decide what goes into the yellow area on the top. It is your MIT place and it is named "Do it now".
Once MIT tasks are selected you can move them into "Do it now" place. It's the highest-priority item on your to-do list. It's the one thing you must complete during the course of a given day. Focus on its completion to the exclusion of everything else. Only after completing this item would you turn your attention to other items.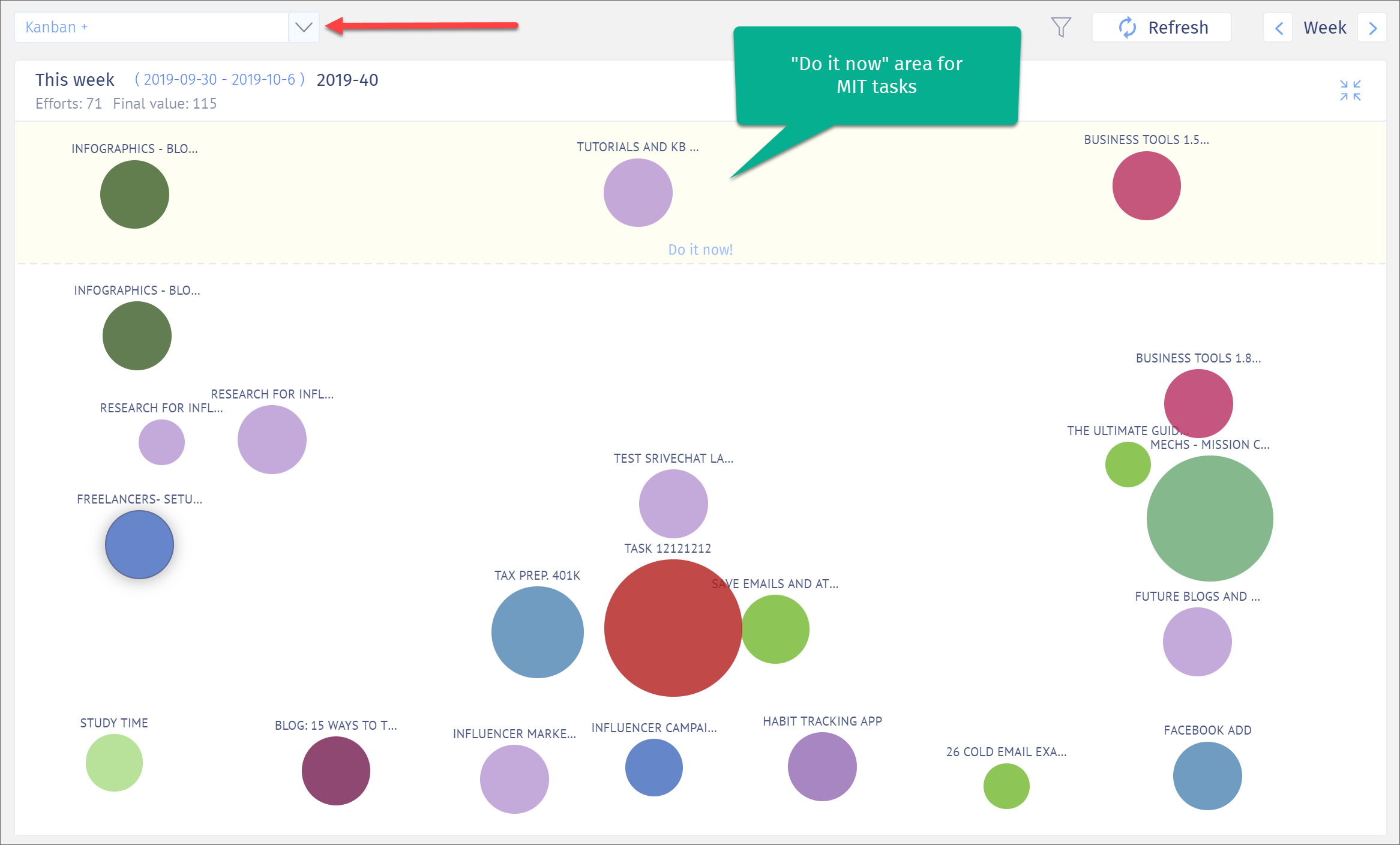 In the screenshot above only 3 tasks were chosen for MIT.  But, you are not limited here.  With "Kanban +" you can use a variety of popular systems:
The To-Do List Twosome: Master Task List + Daily Task List

T

his approach is the one-two punch of to-do list creation. It involves keeping two distinct lists: your master list (bottom) and your daily list (top yellow area).

The "3+2" Strategy

This to-do list system follows a simple formula: three big tasks and two small tasks. Each day, you select the five items you'll work on. (Or better yet, select them the night before.) Use the yellow "Do it now" area to hold identified tasks. The big items should take between one and two hours to complete. The small items should take 30 minutes or less.
The main strengths of the "3+2" strategy: it limits the number of tasks on your daily to-do list. There are five. No more. No less.

The 1-3-5 Rule

T

he "1-3-5 rule" is an extrapolation of the "3+2 strategy" described in the previous section. Here, you choose one big task, three medium-sized tasks, and five small tasks to complete during the day. While the "3+2 strategy" limits your focus to five tasks, the "1-3-5 rule" expands the number to nine.

The 3-MIT Approach

The effectiveness of the "3-MIT" approach is in its execution. This system is very common and practical.
This approach is very well explained in the book by Damon Zahariades – "To-Do List Formula". I leave the details to the user to define. For example, how do you choose your three MITs? Do you link them to specific goals and give them context accordingly? Do you estimate in advance how much time each one will take to complete so you can avoid overextending yourself given your schedule and availability? How do you integrate your MITs with your calendar to ensure they receive the time?  …  And this is where BubblesPlanner can help.
BubblesPlanner is offering flexibility – a choice for the user to decide which system fits you the best.
Matrix system
The Matrix system was popularized by the late Stephen Covey, author of the acclaimed book The Seven Habits of Highly Effective People. It is also known as the "Eisenhower Box." The same principles apply to both. It's a system that is used to decide how to allocate one's time among competing tasks.
A matrix system is made up of four quadrants titled as follows:
Important – Urgent
Important – Not Urgent
Not Important – Urgent
Not Important – Not Urgent
You place each Task's Bubble in the appropriate quadrant to help you isolate and prioritize the most important Tasks.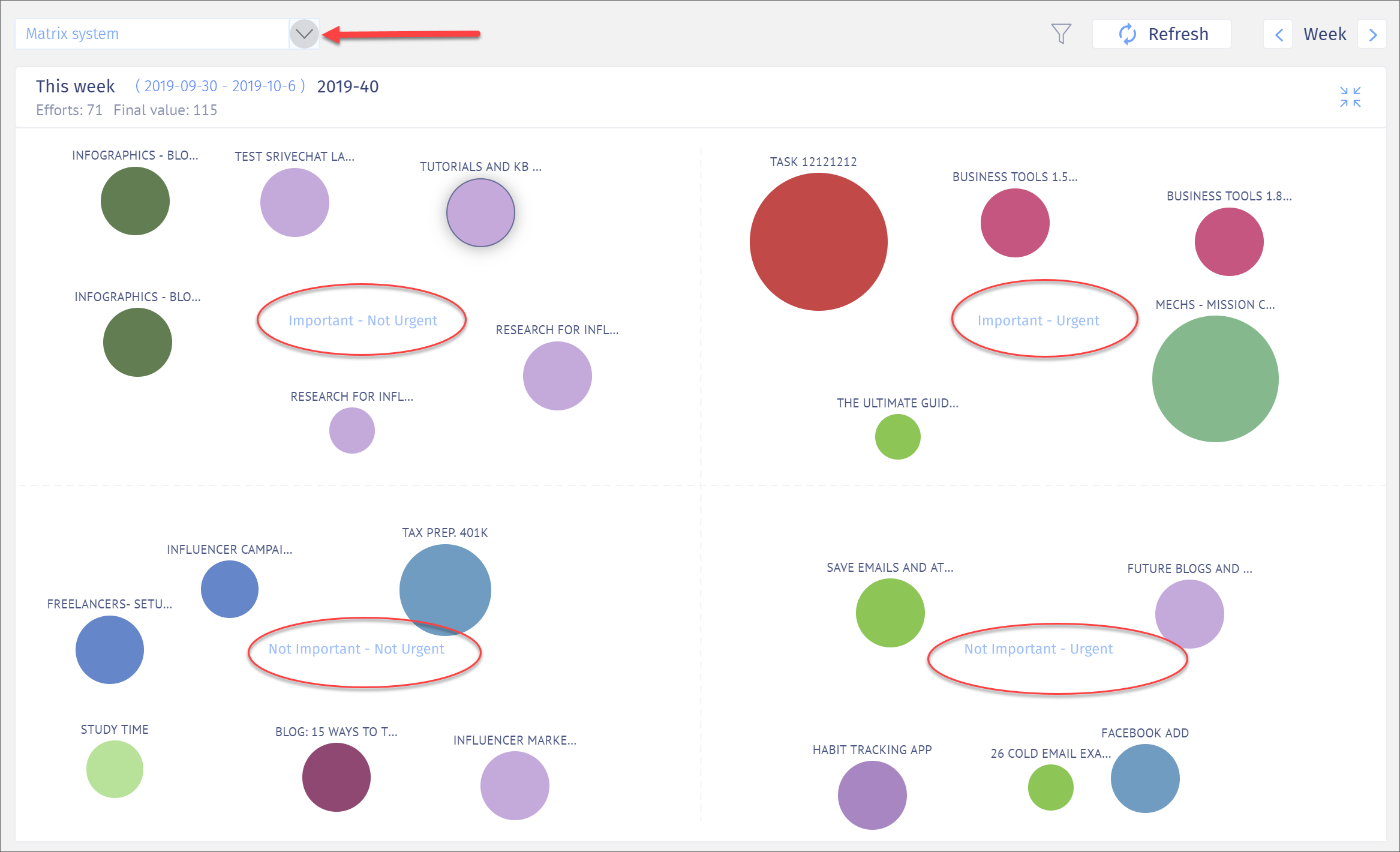 Combo (Kanban + and Matrix)
The Combo backdrop is an aggregate of 2 systems  Kanban + and Metrix.
It merges the best of two words – the power of "Do it now!" with 4 quadrants of importance,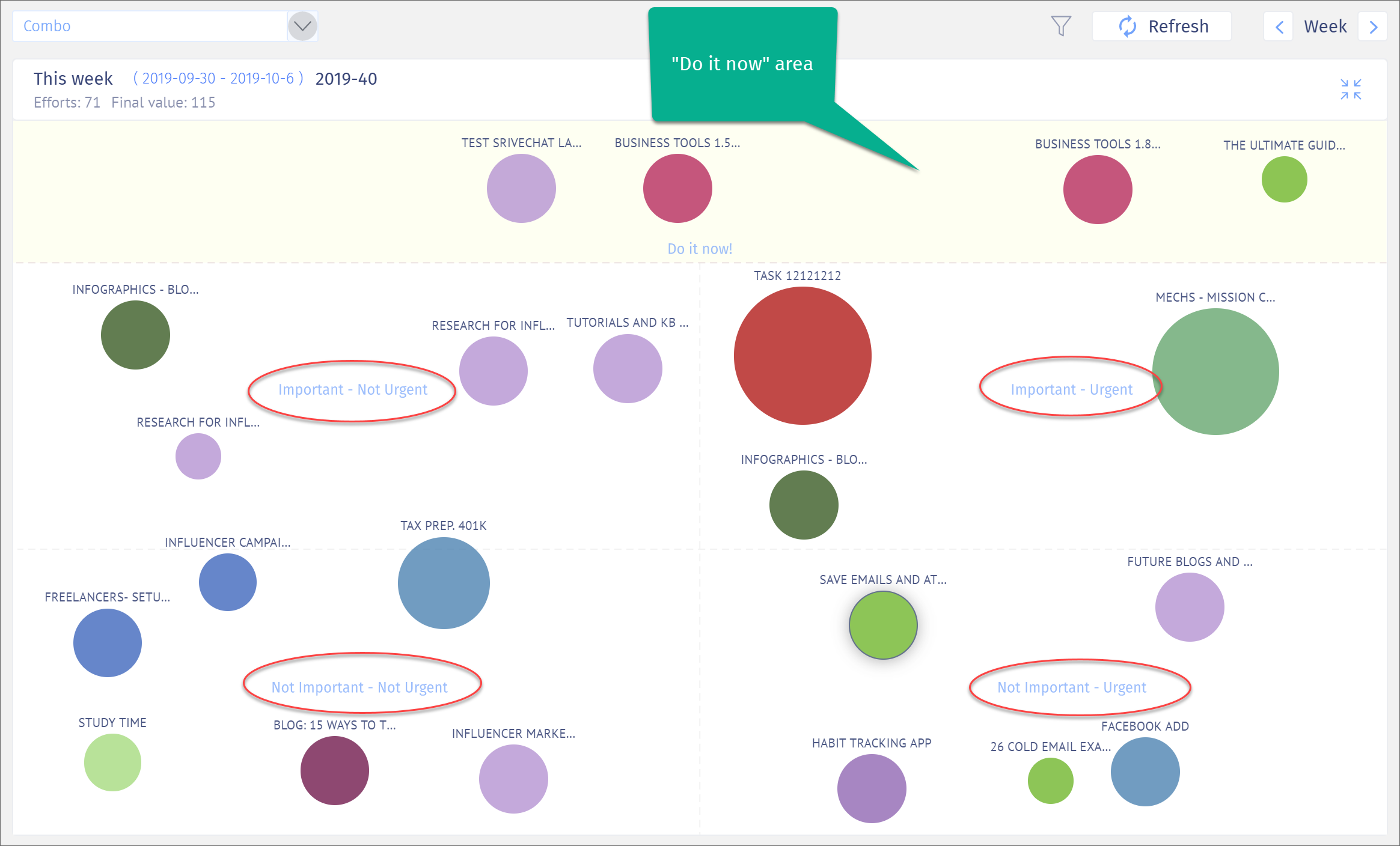 GTD (Get Things Done)
And our final system is GTD underlying method, click the drop-down arrow above the Bubbles display and select it. 
David Allen's Getting Things Done is one of the most popular task management systems in use today. There are a few important features if GTD that we used in our system interpretation that need to mention here:
GTD forces you to add context to each task. This is inherent in the process of "dumping" everything onto a master list and then moving tasks to other, more refined lists.
GTD separates tasks based on importance. Part of GTD involves creating a "next actions" list,  "someday/maybe" list, and "waiting for" list.
GTD weekly review is one of the keys to being successful and effecting using this system.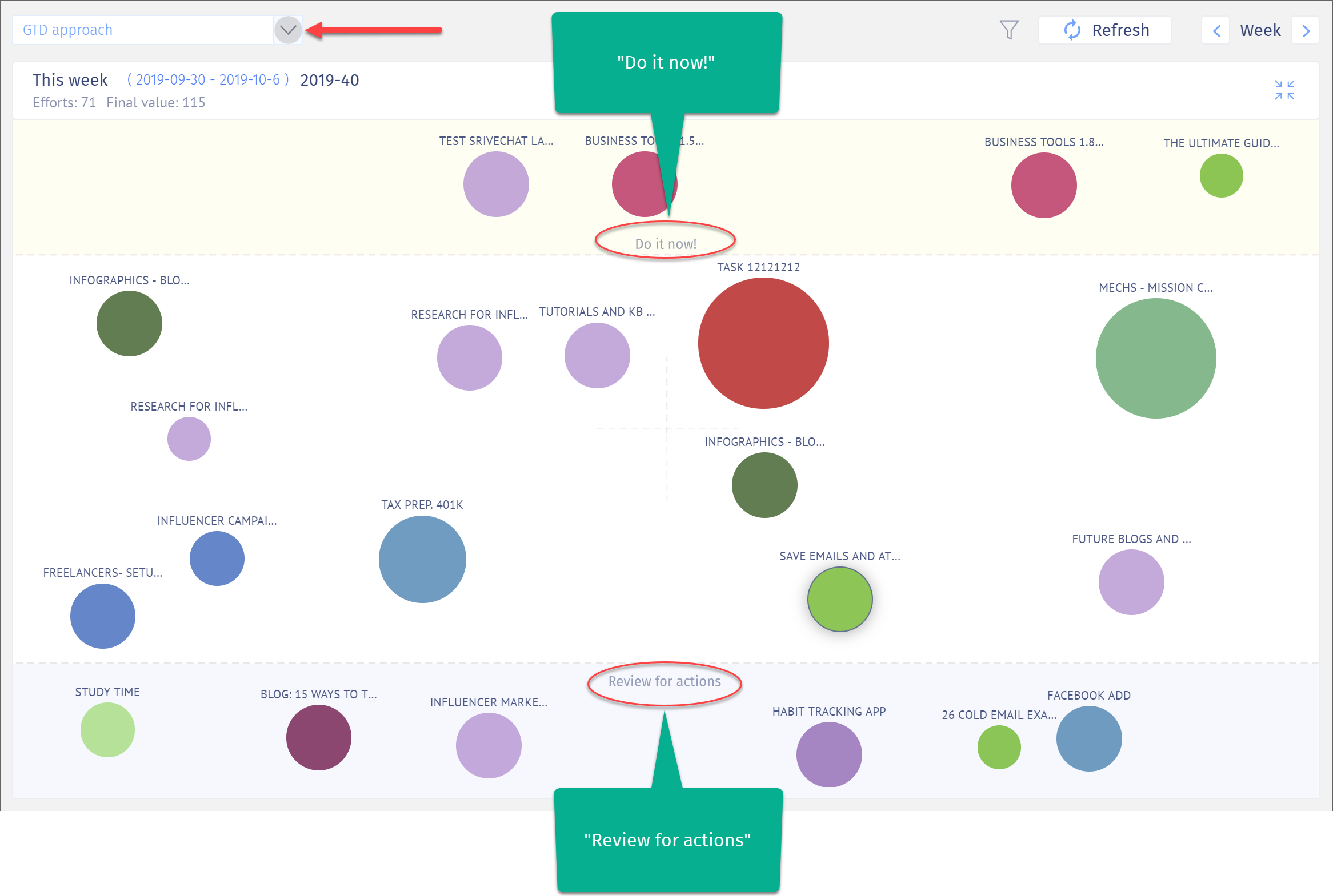 Final thoughts
BubblesPlanner provides structure, but it doesn't force you to adhere to specific tactics. It offers a framework that gives you enough flexibility to create your own personalized approach.