Profile
The Profile allows you to manage a variety of aspects about your Bubbles Planner account and you, as the owner of the account. The concept will be familiar to anyone who has created accounts for software as service apps and social media. In a nutshell, this is your public face when it comes to sharing content you create using Bubbles Planner.
As you use Bubbles Planner, you will create Boards that hold an almost endless amount of content. Boards contain Tasks and Posts which contain content relative to your efforts, or those of another person you assign, to complete them. One way to think of this is a Board is a book, and a Task or Post is a chapter within that book.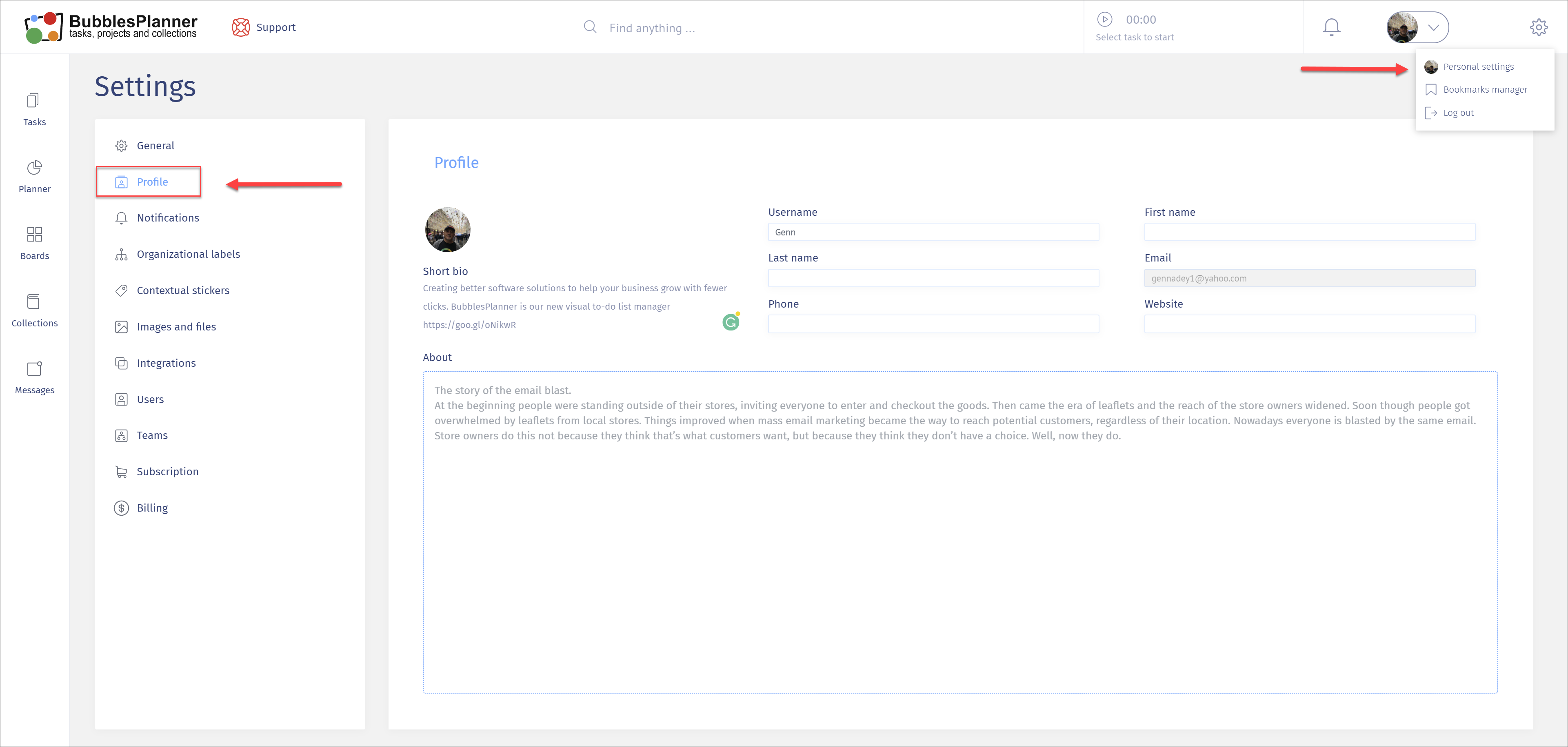 Since Bubbles Planner can be used for all types of Tasks; work, personal, for organizations where you have a membership, and so forth, it can be very beneficial to share how you completed those Tasks with colleagues, friends, family, or just the world in general. Here are a couple of examples:
You take your "trip of a lifetime," and use Bubbles Planner to manage the Tasks of arranging travel, lodging, access to venues, document your trip each day in Posts, and write a final review of the experience. You can assign these Tasks and Posts to a Board then share it as a Collection to help others plan similar trips.
Another example might be leading a benchmarking effort at your company. You use Bubbles Planner to document all aspects of the project such as identifying best in class companies for comparison, the creation of the survey questions; Lessons learned to implement the surveys, final results, and changes made from the effort. Assigning all these work efforts and their supporting documentation to a Board and shared as a Collection allows others within the company to implement their own benchmarking study by learning from your experience.
When you share a Collection, it will contain elements from your profile including your picture, if you upload one, and your bio. This allows people who see your Collection to know more about you and gain an insight into why you created the Collection. So, don't skimp on details here. Put your best foot forward!
The following image shows the fields available to every user when you click on the Personal settings link in the submenu. The options are self-explanatory. Your bio will be visible to people who see your Collections, along with your name. Other contact information will not be shared.
Clicking on the About lets you add more detailed information about yourself, your company, etc. It is a blank page, add as much, or little, as you like.