Contextual stickers
Like Labels, Contextual Stickers are a unique categorization and organization element within Bubbles Planner. With all the other methods of categorizing and organizing Tasks and Posts in Bubbles Planner, why include the Conceptual Sticker?
The reason is that these Stickers carry a contextual value set by the user. Whereas Tasks have a Level of Effort value, Stickers have a level of importance relative to the objective the Task supports. Both are subjective values set by the user based on their experience, objectives, and perception of the importance and difficulty of the Task.
Clicking on the Contextual stickers link displays the dialog shown below. In the settings area you can:
Search or create a new Contextual sticker.

Sticker is an icon that you can assign any color. 

The sticker has the name you give to it. 

The sticker has a contextual value assigned to it.

A contextual sticker is editable and can be deleted.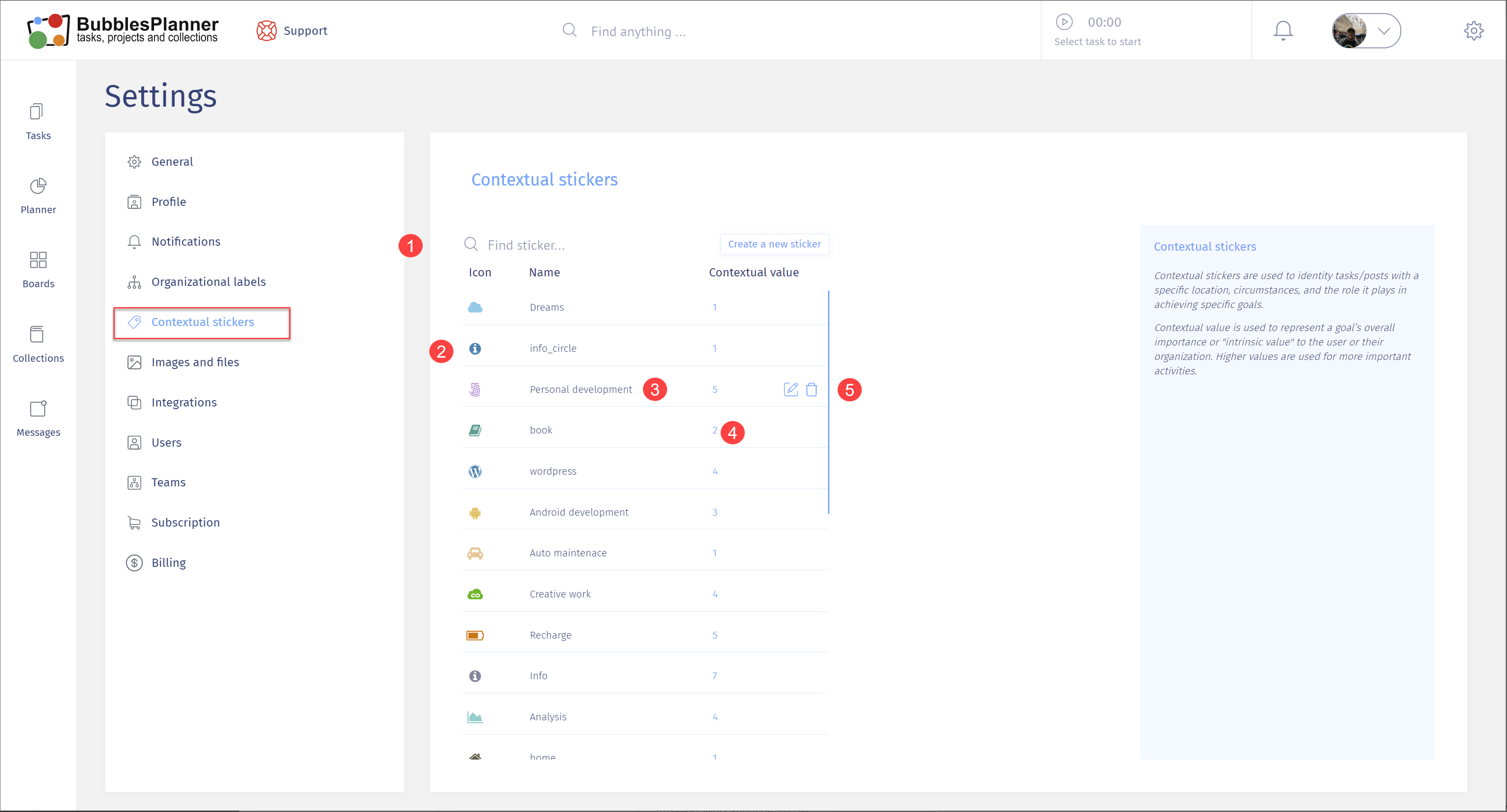 Why Contextual sticker are needed? 

Contextual stickers are used to identity tasks/posts with a specific location, circumstances, and the role it plays in achieving specific goals.

Contextual value is used to represent a goal's overall importance or "intrinsic value" to the user or their organization. Higher values are used for more important activities.
Stickers are an excellent way to prioritize between multiple Tasks with the same Level of Effort, allowing the focus to be placed on the most important of those Tasks first.
Creating contextual sticker
Click on button "Create a new sticker" will open a pop up. In this pop up you need to:
Provide sticker title (name).
Select an icon.
Select a color.
Set a contextual level using a slider.