Collections vs. Boards
Overview – Boards vs. Collections
Boards are private and only shareable with people you invite in Settings. The owner of the Board can update its content, by adding and removing tasks or posts.
Having tasks completed as part of the objective of completing the project or larger effort of the Board represents. Collection – is a mirror reflection of the Board shared publically. No one can edit Collection itself (from inside Collection) even the owner himself. Edits to Collection done through the Board by the owner. 
Collections represent Boards with their set of tasks and posts, completed and in-progress. Only the owner of the Board can share his Board as a public Collection.
About Collections
Collection is a group of multiple blocks of information dedicated to one general topic

Collection – is a project Board shared publicly. It is not editable. The Board is editable and only by its owner

Collection should consist of 2 or more posts (tasks) that are part of the main topic

One introductory post is recommended to show a high-level summary of the Collection and references to primary sources and related material

Additional posts (tasks) must divide a topic into parts or informational blocks that are devoted to describing specifics of sub-subject

Each post (task) should contain some description and interesting facts + comments about the subject in Notes

Each post should use Subtasks which will break down posts further and/or list multiple features of the subtask, references or list documents .. etc.

Images, docs and web links saved for each post. They must complement the described subject matter. They should be unique (within Collection) and reflect additional content – screenshots, product images, forms, files (any format), links to reviews, links to referenced material, or any other supplemental material

Use Action notes in posts. They are high-level statements about the post visible in bubble view pop-up below task description. So, it can provide additional information about the post.

And finally, Bubbles that are representing each post must be organized in the meaningful pattern that owner of Collection want others to see or follow

Bubbles can be in different sizes and colors which can bring additional meaning and if it is important for the owner of Collection to segregate or group them
Collection – is managed feed of information: notes, comments, documents, any files formats, videos, images, web links visually organized into "bubble view" for better comprehension and absorption.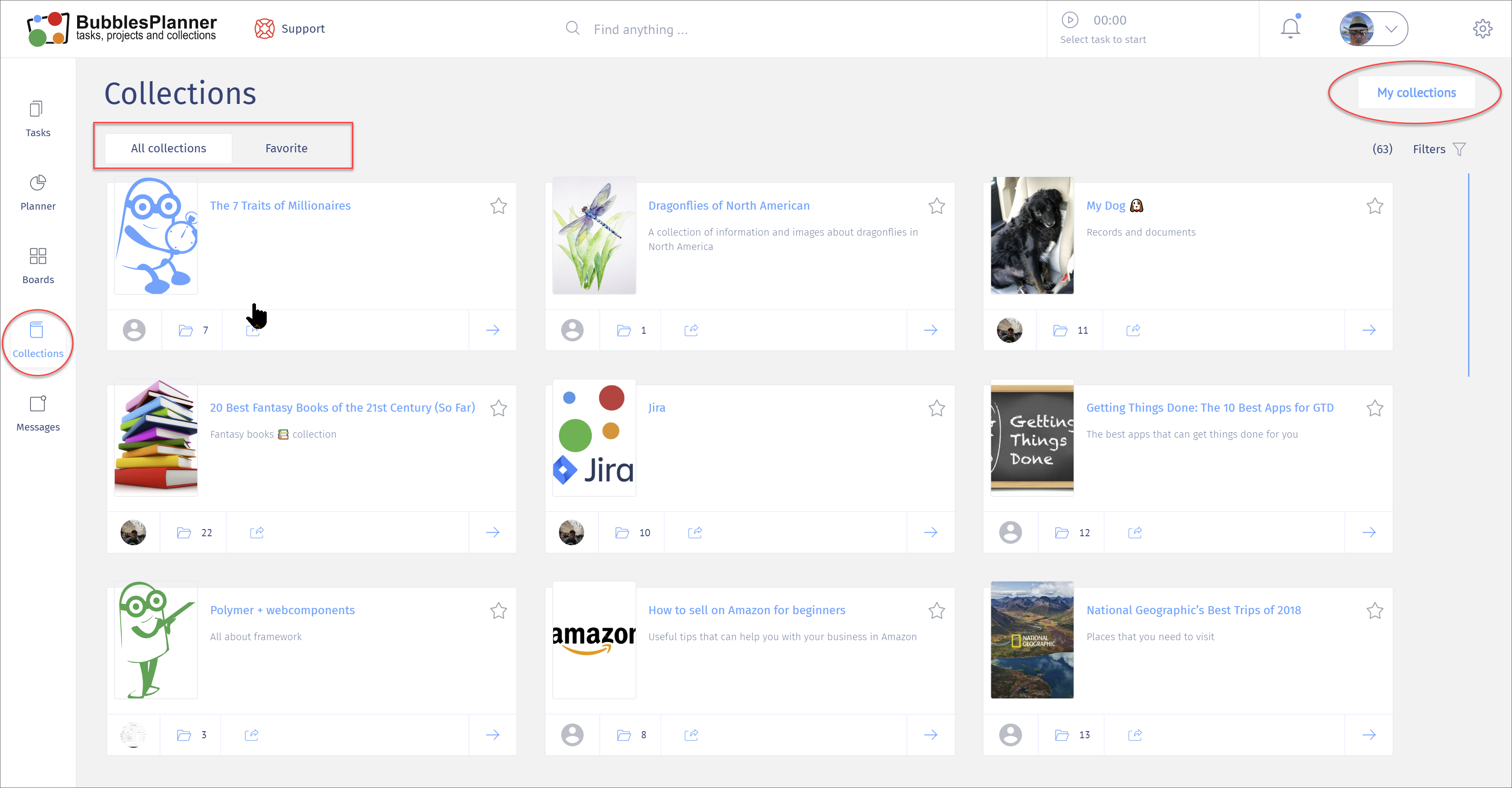 Setting profile for Collection
Each Collection will use key elements of the Profile created in Settings. For information on creating your profile, learn more in the Settings section.