Assigning task to a user
About task assignments
Task or post can be assigned to anyone who has accepted an invitation to connect and listed as a user in Personal Settings.
A load shared is a load lightened, as the old saying goes. In BubblesPlanner, you can assign tasks, but only to one person at the time. Each task must have a single person responsible for its completion for the most effective task management and resolution. Assignees can be changed if desired by the task owner.
Only the Task's creator or "owner," can mark a task complete. The person to whom a task is assigned has multiple ways to report the status of the task when he(she) complete it.
The assignee can use the progress slider to show how they are doing and report that it is complete by sliding to Max = 99%. But the assignee cannot mark it as Complete. This is a simple check and balance to allow the Task owner to review the work and only complete the task when the work is acceptable. Or reassign the same task to the next person. 

The assignee can communicate its status by using Quick Notes – leaving information in writing.
The assignee can communicate task status by using the messaging tool – Chat and leaving a comment about the task.
Finally, while the person to whom a task is assigned can add, delete, or change the content, they cannot change any of the Organization settings. That tab is not displayed to the assigned user. 
The screenshot below better explains the role and permissions of the user in the assigned task (ASSIGNEE).
Task organization, Due dates, and ability to add or remove users always remain in the hands of the task owner (creator).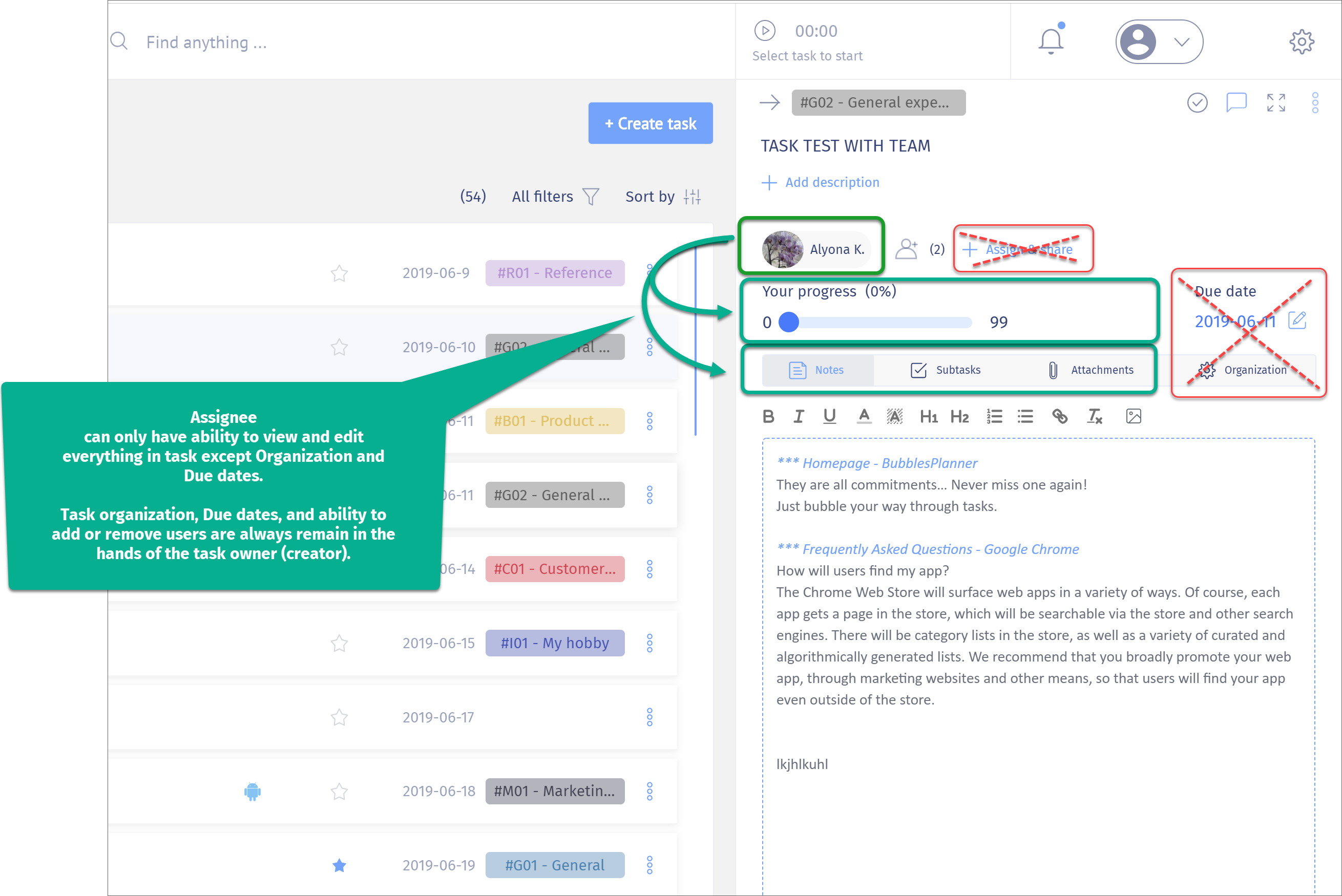 Tasks can be shared with as many people as desired. Shared users can see everything that the Assignee sees, however, they are limited to read-only.
Everyone (assigned and shared users)  can collaborate in the chat. 
Assigning the task
To assign a task, follow these steps
From the Task View (or inside the Posts view), click inside a task as shown below to open the Right Panel.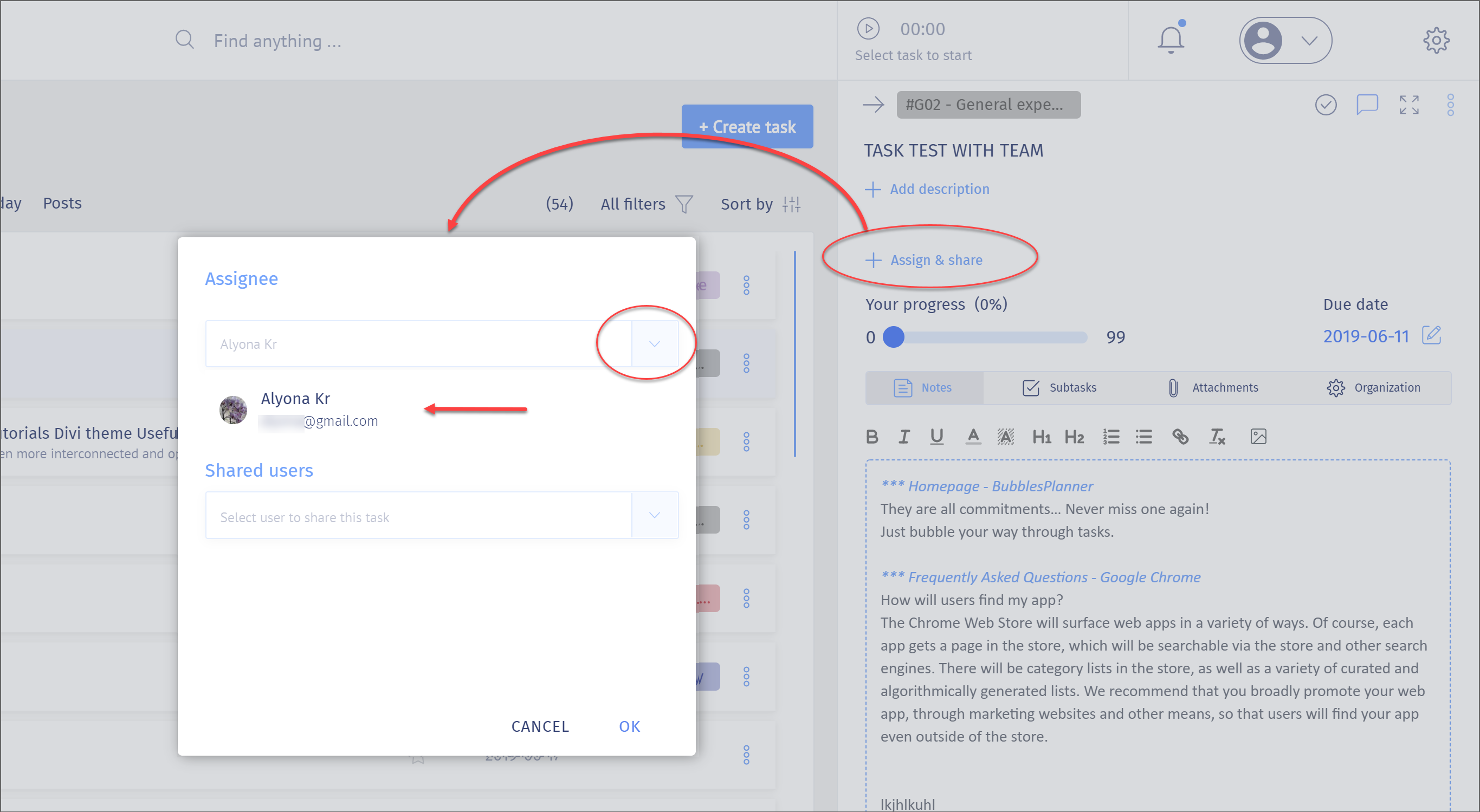 Click on the button "+Assign & share"

In pop-up click on drop-down "Assignee"

Select the assignee

Click OK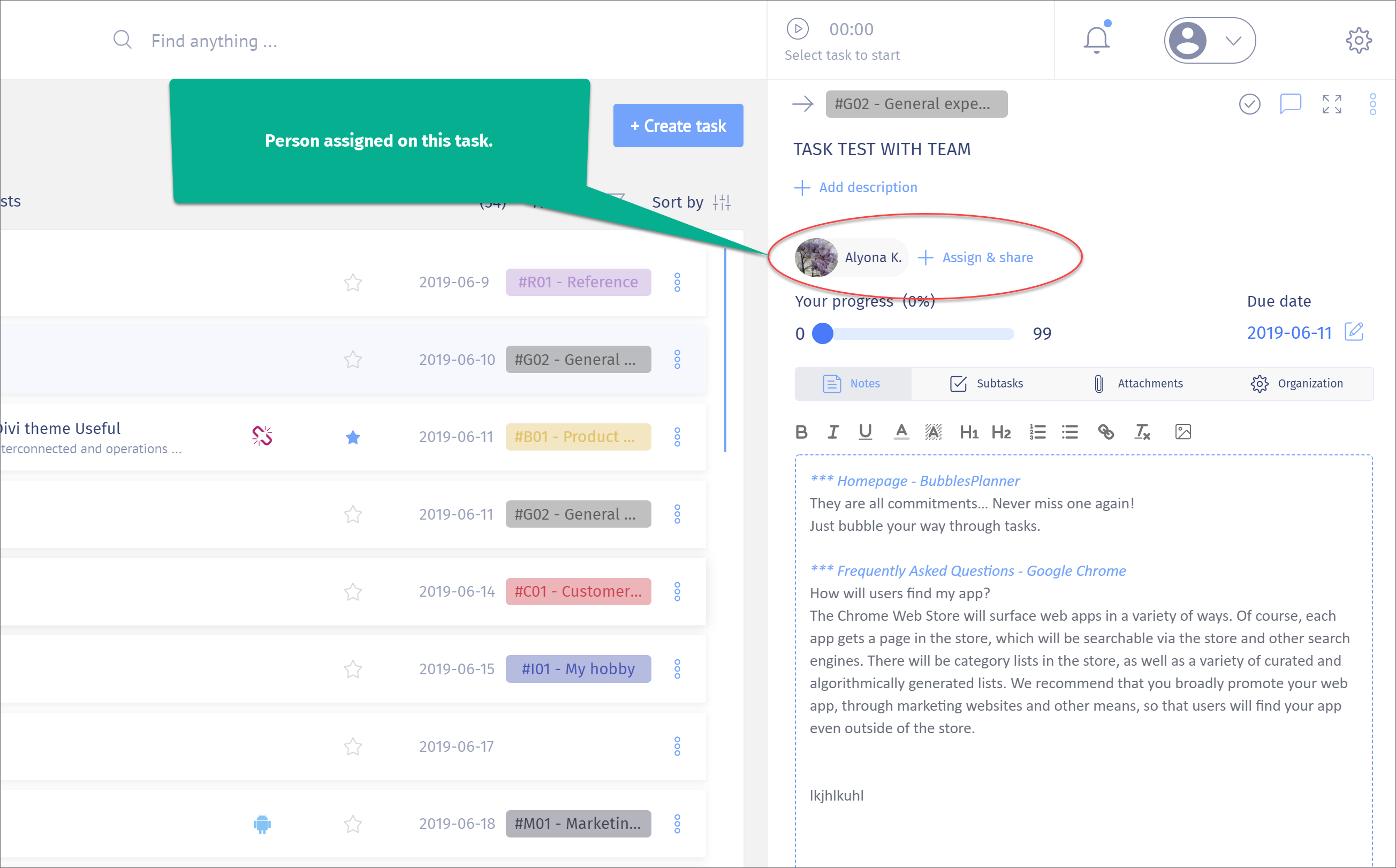 Note:  There is only a single user can be assigned to one task.  
Removing user from task assignment
To remove the user from assigned task follow these steps:
Click on button "+Assign & share"

Hover over the user name

Click on "Delete" icon next to the user you want to remove

Click OK